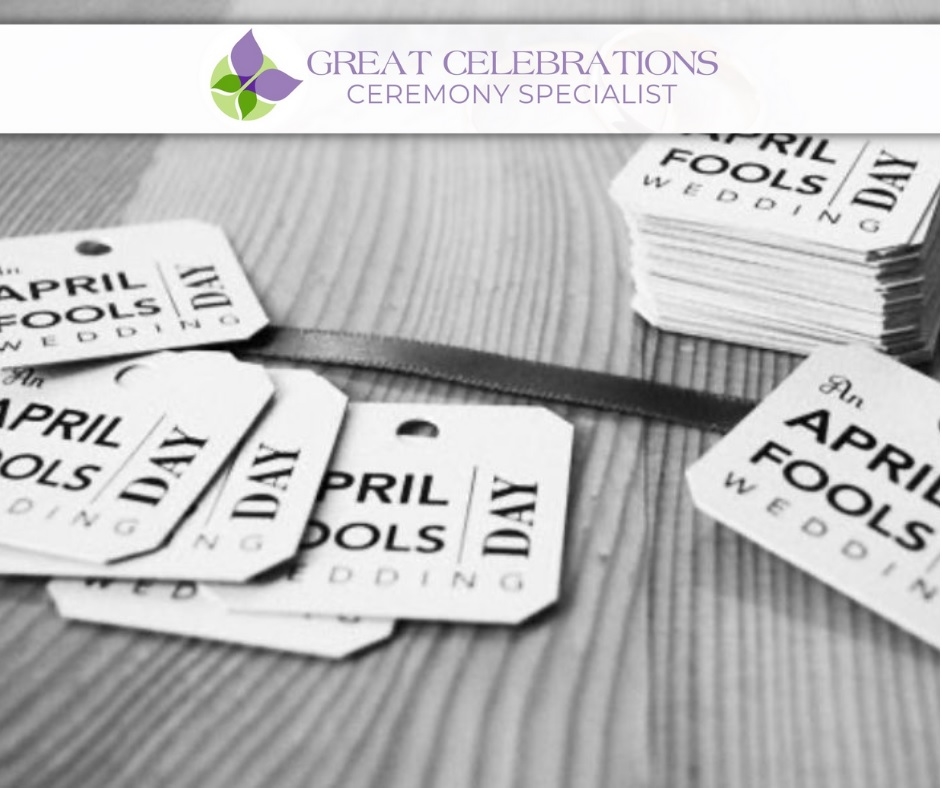 I know we like to get caught up in the fun of the April Fool' Day, but I want to speak on a wedding element that rises above joking. Your wedding ceremony, as festive as it is designed to be, is not a light matter. It is a time when two people come together and ask others to join them in witnessing their transition into marriage. While it is not a somber occurrence it is meant to be taken seriously.
Ceremonies are planned events; they are designed to convey a message and ambiance. They are a happening that takes careful preparation and delicate execution. Unfortunately, some couples see the ceremony as a "get it done" part of their overall wedding celebration. If this is your tendency, then we urge you to consider:
At the venue, where will the formalities take place?
Will a traditional religious ceremony fit or compliment the ambiance you have spent so much time, money, and energy creating?
Will your guests know they have been thought of; will they feel truly honored that you invited them?
Will the person who officiates respect your wishes; will they have the experience to foresee and handle tricky situations?
Think about it – where you will stand, what needs to be handy, what you will do, and how you will do it all require attention to space planning that only your officiant can figure out for you. Regarding your guests, they come expecting to see a beautiful couple and scene. But, how much more gratifying for them to know they have been thought of as part of your ceremony preparation. Again, it is your Celebrant who figures out how to weave attendees into the event. Speaking of the Celebrant, Officiant, Ceremonialist or whomever is in charge of emceeing your important day, remember they are the person you hire to do the work of making the wedding ceremony vision become real. It does not get any more real and serious than signing a license to make a marriage legal.
So, when you are planning your long awaited day, think of it in segments: the wedding, the ceremony and the party. If you do, you will avoid the mistake of overlooking the importance of your ceremony which is the happening that takes place within the trappings (flowers, music, attire, etc.) of the wedding event itself. The words, symbols, and acts contained in your wedding ritual provide the grounding for the most romantic and spectacular weddings – no foolin'.
Author: Jacqueline Smith-Bennett
Ordained Minister, Certified Life-Cycle and Wedding Celebrant
GREAT Celebrations: Ceremony Specialist
Camp Hill, PA
jasb@greatcelebrations.net